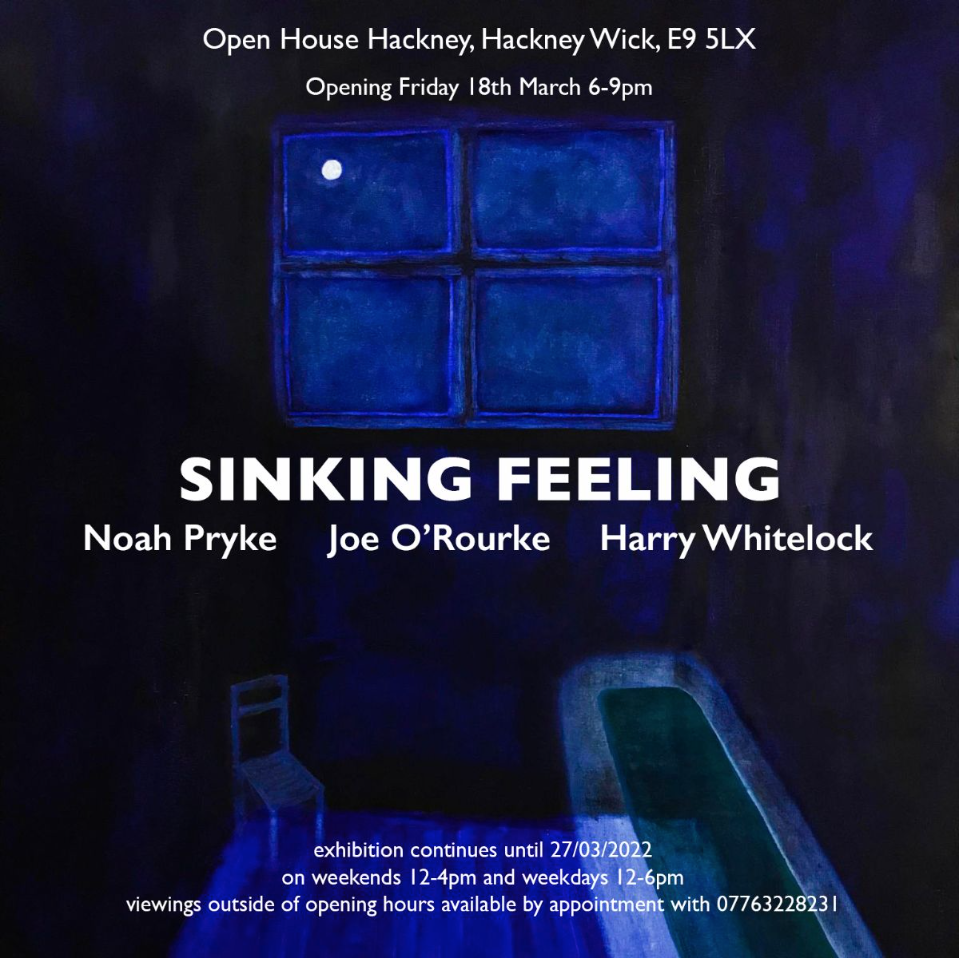 Exhibition text for Sinking Feeling, group show
Open House Hackney
5 Prince Edward Road, London
E9 5LX

Show text
Sinking Feeling
Joe O'Rourke, Noah Pryke and Harry Whitelock present Sinking Feeling, a group show in Open House Hackney. "Sinking Feeling" – with its allusion to living anxiously in a world on the brink of social collapse, ecological disaster and political upheaval – is an exhibition bringing together painting, collage and drawing, inviting the viewer to explore interiority on the edge.
Propelled by the idea of building new and alternative realities or worlds, Joe O'Rourke's work is an assemblage of responses to the world we live in, delivered with a strong dose of irony and wry sense of humour. In Sinking Feeling, the collection of works on paper are informed by adverts, overheard conversations, dystopian novels, films and found images. As viewers, we piece together the works like a game, each painting or drawing another piece in a puzzle in his constructed world. O'Rourke utilises recurring motifs in his practice including dice, cards, ladders and the dizzying scale of skyscrapers set against the comparatively minute scale of humankind. Intrigued by the appearance of illusion in set and theatre design in the same way as some of his main inspirations, Paula Rego and Lubaina Himid, O'Rourke strives to piece together the props and narratives from the everyday and the imagination.
Noah Pryke's monochromatic ultramarine paintings often depict interior domestic spaces; he describes the settings as "intimate, private and personal spaces." In this respect, the work is an expression of the artist's feelings, thoughts and emotions. Preferring to work on large scale canvas, Pryke mixes his oils with an array of mediums, building up thin and malleable layers. In the background of the paintings, you'll notice that the scenes are almost always in the presence of the moon, stars or the sea; everpresent elements that provide much solace and comfort to the artist. The scenes are decidedly depicted at dusk or night; a time in which Pryke believes "offers an ethereal sense." Pryke prefers to limit his palette, using greens and reds as underlayers before mixing these hues with warm blues.
Harry Whitelock's artistic impulse often begins outside of the studio. The series of drawings presented in Sinking Feeling began in response to a pile of bones found on the bed of the River Thames in central London. Driven to capture something of the primordial physicality of the found objects; their history and earthiness, there is an ambiguity between abstraction and figuration in the work. Flashes of recognisable body parts, an anchored ship, felled trees in a wooded landscape are elements that dissolve into the breadth of colour and line in the compositions. The work arrives at a point that could not have been premeditated; Whitelock's material process is reactive and reflective as he responds to each layer of painted surface before the image emerges. As with all the artists' work in the show, there is a calm serenity amongst chaos. Sinking Feeling explores the restorative power of disorder to help explore the fantastical, personal identity, the natural world, memory and history.
Mandy El-Sayegh,
Passengers
(2018) Oil and mixed media on linen with artist's frame, 179.1 x 152.4 cm
‍
Body Topographies
Installation view, Lehmann Maupin London
Photo by Jack Hems
Courtesy Lehmann Maupin, New York, Hong Kong, Seoul, and London
The body – the material and medium through which our sensory experience and perception of the world is mediated – is investigated in
Body Topographies
, a small group exhibition bringing together the works of five female artists at Lehmann Maupin's exhibition space in Cromwell Place, London. The exhibition stars important works by Louise Bourgeois and the London-based artist Mandy El-Sayegh; two artists who deal with the mutability of bodily material and form which invites comparison and contemplation.
Bourgeois and El-Sayegh are known for their highly process-driven practices and both engage with the body – or depicted fragments of the body – as a framework to underpin the cultural, political and familial complexities and traumas of humanity. While Bourgeois explores complex emotional states and memories, El-Sayegh depicts subjugated and exploited bodies; a body subject battered and bruised by capitalism and patriarchy.
Faceless female forms are depicted in both Bourgeois and El-Sayegh's paintings, albeit with entirely different sensibilities.
The Family
(2008) is a series of twelve gouache on paper paintings completed near the end of Bourgeois life and career. The female figure has multiple breasts, its form is rounded, containing one, sometimes two falling figures inside its body. The figures are outlined in blurred blood-red paint. In El-Sayegh's painting
Passengers
(2018), a headless, keeled-over body anchors the piece, set against silk-screens of right-wing newspaper headlines, the artists' fathers Arabic calligraphy, diagrams and the title from the 2016 film
Passengers
; a sci-fi romantic film set on a planet in a star system sixty light years from Earth. Reproduction of images and the circulation of ideas are put into question. How do we register fragmented ideas, images and representations? Clearly, the interaction (or interrelation) between the body and the world is at the hinge of both Bourgeois and El-Sayegh's artistic concerns. Bourgeois is afflicted by personal experience and material bodily boundaries, whereas El-Sayegh explores the shifting space between internal and external, between excess and control.
Two smaller works by El-Sayegh feature in
Body Topographies
.
units of measure 001
and
units of measure 002
are composed of thick pigmented latex. Financial Times newspaper clippings and other ripped and collaged detritus are enmeshed below. The latex is an extension of the permeable boundary of skin; the space in-between interior bodily space and exterior environment. Each work is contained by a glass frame; the measurements are roughly the size of a torso. In this fragmented body, the viewer is invited to think beyond the flesh, beyond the deteriorating latex surface, beyond indeterminate edges, but only to a point.
The fragmentation of the corporeal is further suggested by Bourgeois' free-standing sculpture
Avenza Revisited
(1968-9) presented alongside
The Family
. Made up of bulbous bronze projections, the work dismantles the very concept of corporeality as something self-contained and unified. Bourgeois spoke of the
Avenza
series (the title refers to a Tuscan site known for its marble quarries) as "landscapes… our own body could be considered, from a topographical point-of-view, a land with mounds and valleys and caves and holes. So it seems rather evident to me that our own body is a figuration that appears in mother Earth." (1)
The exhibition is a demonstration of how Bourgeois and El-Sayegh both depict the disintegrating materiality of the body's sinews and strands as extensions of their artistic process. For Bourgeois, her work indicates a deep...
"...concern with the human body: its aspects, its changes, transformations, what it needs, wants and feels – its functions. What it perceives and undergoes passively, what it performs. All these states of being, perceiving, and doing are expressed by processes that are familiar to us and that have to do with the treatment of materials, pouring, flowing, dripping…advancing, collecting, letting go..." (2)
El-Sayegh's process is equally lengthy. The works go through screen-printing, assemblage, and painting stages. Dispersed, layered and collaged, the collected fragments shift into new configurations and meaning. As such, the paintings are reflective of how El-Sayegh defines her artistic practice as a place of searching: a "place where the body is still being articulated and hasn't yet been fixed…" (3)
The works on display by Bourgeois and El-Sayegh are haunted by the suggestion of presence, and their corresponding absences are autobiographical. Bourgeois frequently explored the theme of family and the traumatic events that took place in her childhood. The Arabic calligraphy in
Passengers
recalls El-Sayegh's fathers previous job as a calligrapher for the Sultan bin Muhammad Al-Qasimi. Her material choices are also deeply personal. Her mother was a rubber tapper in her youth in Malaysia and she recalls many of the workers at the rubber production would fall ill by the factory's toxic output. Latex provides the workers their livelihood but it can be extremely harmful, sometimes deadly. The material itself has the ability to preserve
and
eventually deteriorates.
Autobiography does not, however, exist in static relation with neither Bourgeois nor El-Sayegh's work. Rather, the work exists in dialogue with the spectator. As El-Sayegh says, "It's about how I turn these personal things into a universal thing. It starts on such a base level – latex, paper, this stuff I've collected – then I have to raise it. So it ends up not being about me, but I'm in there." (4) Encountering
Passengers
is not a sterile, disembodied experience. In fact, the spectatorial experience is central to its operation. To experience Bourgeois and El-Sayegh's work is to interact with materials from their life.
The works on show at
Body Topographies
– in particular the four works on show by Bourgeois and El-Sayegh – reveal the very material exchange between the body and the world, the past and the present, the personal and the universal.
‍
(1) Louise Bourgeois in taped interview, Oct. 14, 1981. in "Louise Bourgeois", Deborah Wye, (Museum of Modern Art: New York, 1982).
‍
(2) Louise Bourgeois, "Form" (1960), in "Destruction of the Father. Reconstruction of the Father", ed. Marie-Laure Bemadac and Hans-Ulrich Obrist (Violette Editions: London, 1998), 75-76.
(3) Mandy El-Sayegh and Xiaoyu Weng, "In Conversation: Mandy El-Sayegh and Xiaoyu Weng. A state of becoming, being Intermediate, still searching", March, 2021. https://www.lehmannmaupin.com/news/in-conversation-mandy-el-sayegh-and-xiaoyu-weng
(4) Mandy El-Sayegh and Darren Flook, "Mandy El-Sayegh: 'I want everything in there, the political, the sexual… there is a terror in excess", April 2019. https://www.theguardian.com/lifeandstyle/2019/apr/11/mandy-el-sayegh-up-and-coming-artist-east-london-exhibition